LG Display- E-Book-Reader mit Dünnschicht-Solarzelle zur Stromversorgung vorgestellt.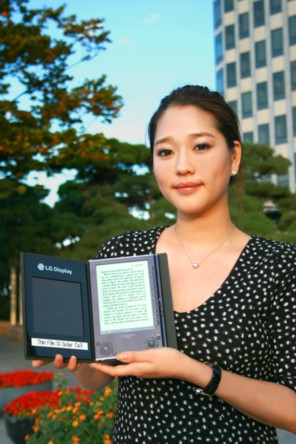 Die nur sieben Millimeter dicke Zelle im Deckel des Readers soll mehr Komfort für den Leser versprechen. "Die Idee eines E-Book-Readers mit eingebauter Solarzelle wird Nutzern den zusätzlichen Vorteil einer längeren Laufzeit bringen", meint Ki Yong Kim, Leiter des Solar Cell Office bei LG Display. Zum Einsatz kommt dabei eine vom Display-Experten entwickelte Silizium-basierte Dünnschicht-Technologie, mit der das Unternehmen bis 2012 einen Wirkungsgrad von 14 Prozent erreichen möchte.
LG Display Unveils "Solar Cell e-Book"
The thin-film solar cell featured in the e-book measures 10 centimeters in width and length, it was developed to perfectly fit the 6-inch display panel for e-book currently mass produced by LG Display. The solar cell measures 0.7 millimeter in thickness and weighs a mere 20 grams, the less thickness of a credit card and the weight of a fountain pen.
The thin-film solar cell is produced by placing electrodes onto a glass or plastic substrate. Contrary to widely adopted crystalline solar cells that employ silicon wafers, the thin-film solar cell is generally light-weight and easily adjustable in size and form for applications such as e-books or mobile phones.
The current energy conversion efficiency rate of this product is approximately 9.6 percent. Exposure to sunlight for about four to five hours would extend the running time of the e-book's battery by a day without the need for additional charging. This would allow longer outdoor use of the e-book and lessens worries about battery discharging.
Mr. Ki Yong Kim, head of the Solar Cell Office at LG Display noted, "E-books are attracting a lot of attention because they offer the advantage of storing thousands of books' worth of contents in an easy-to-carry device. The idea of e-book combined with solar cell will offer users the added benefit of longer usage. We will continue to provide users with enhanced convenience and value to solidify our lead in next-generation, environmentally friendly products."
LG Display previously had announced plans to nurture its thin-film solar cell business as a future growth driver. The company aims to raise the energy conversion efficiency rate to 12% by 2010, and eventually achieve efficiency rate of 14% in 2012 to prepare for commercialization.
During IMID (International Meeting on Information Display) 2009', LG Display will showcase the prototype of solar e-book, as well as its newest cutting-edge display technologies in KINTEX, Gyenggi, Korea.
Reference Thin-film type solar cells: Thin-film type solar cells are being hailed as a solution to the problems associated with widely adopted crystalline solar cells that employ silicon wafers. Problems include a lack of materials and the high price of materials. By placing electrodes onto a glass or plastic substrate rather than a silicon wafer, process efficiency can be raised by increasing the substrate size. Additionally, the technology would not be susceptible to weight adjustments or conditions of the installation location, making it relatively stable against changes in the external environment. As the related technology is similar to TFT-LCD, the entry barrier is relatively low for LCD manufacturers such as LG Display. About LG Display LG Display Co., Ltd. [NYSE: LPL, KRX: 034220] is a leading manufacturer and supplier of thin-film transistor liquid crystal display (TFT-LCD) panels, OLEDs and flexible displays. The company provides TFT-LCD panels in a wide range of sizes and specifications for use in TVs, monitors, notebook PCs, mobile products and other various applications. LG Display currently operates eight fabrication facilities and five back-end assembly facilities in Korea, China and Poland. The company has a total of 30,000 employees operating worldwide. Please visit http://www.lgdisplay.com for more information.
Forward-Looking Statement Disclaimer This press release contains forward-looking statements. Statements that are not historical facts, including statements about our beliefs and expectations, are forward-looking statements. These statements are based on current plans, estimates and projections, and therefore you should not place undue reliance on them. Forward-looking statements speak only as of the date they are made, and we undertake no obligation to update publicly any of them in light of new information or future events. Forward-looking statements involve inherent risks and uncertainties. We caution you that a number of important factors could cause actual results to differ materially from those contained in any forward-looking statement. Additional information as to factors that may cause actual results to differ materially from our forward-looking statements can be found in our filings with the United States Securities and Exchange Commission.
Seoul, Korea (Oct 11, 2009) – LG Display Co., Ltd. [NYSE:LPL, KRX:034220], a leading innovator of thin-film transistor liquid crystal display (TFT-LCD) technology, today unveiled an e-book that is equipped with in-house developed solar cell.(rk)